Tamworth Assembly Rooms to host D-Day Darlings auditions

After being closed for more than a year, the team at Tamworth Assembly Rooms are delighted to be able to light up the stage next month for a unique casting call for the UK's premier wartime group, The D-Day Darlings and D-Day Juniors.
Auditions will be held at the historic Corporation Street theatre on May 9 (VE Day weekend) seeking new members of both The D-Day Darlings and The D-Day Juniors in an amazing opportunity for talented local singers of all ages to join a nationally-renowned group.
Tamworth Assembly Rooms is the official home of Britain's Got Talent finalists the D-Day Darlings and BGT stars the D-Day Juniors, since forming a creative partnership with Riverside Studios at the end of last year.
The company is also bringing its vocal, music and performing arts program, RockSchool, to the Tamworth theatre this month, which will see local students being taught by well-known industry professionals.
Now both The D-Day Darlings and The D-Day Juniors are looking for new members to join the team for exciting opportunities and performances for 2021 and beyond.
This will include a special show at Tamworth Assembly Rooms on June 27 (coronavirus regulations permitting), where The Darlings and The Juniors are set to take to the stage to celebrate both the new collaboration and the reopening of the theatre.
They will be joined on stage by the 2019 Britain's Got Talent winner, Colin Thackery, for an evening of song, including classics from The D-Day Darlings album, favourites from the World War eras and original songs from The D-Day Juniors, all ending with a patriotic final. Tickets for the show will be on sale very soon. Please keep an eye on the Tamworth Assembly Rooms website.
The D-Day Darlings are looking for strong female singers, based in the Midlands, with good stage presence who can capture the spirit of the 1940s era.
The D-Day Juniors are looking for any children aged between 8 and 16 who are strong singers with dance/movement ability.
Applications are encouraged from a diverse range of performers who share a passion for keeping the message of remembrance alive.
More information about the casting call is available from The D-Day Darlings Facebook page. Auditions are by invite only and will be carried out in accordance with current coronavirus safety measures and regulations. Applications need to include a photograph, short video and details of any relevant experience to be sent to casting@reivivalliveuk.com by April 30th.
Katie Ashby, director of RockSchool at Riverside Studios and lead singer of The D-Day Darlings, said: "I'm thrilled to be casting for both The D-Day Darlings and The D-Day Juniors and I'm particularly excited that this wonderful opportunity will hopefully be filled by someone in our local community.
"Both acts have experienced a huge amount of success since appearing on Britain's Got Talent and there is so much more opportunity ahead as we embark out of lockdown. I'm more dedicated than ever to continuing our message of remembrance into the young generation, and I can't wait to welcome lots of talented hopefuls to the Assembly Rooms on the VE Day weekend."
Adey Ramsel, theatre, artistic and events manager at Tamworth Borough Council, said: "We're delighted to have been able to team up with Riverside Studios and the nationally-renowned D-Day Darlings and that this premier wartime act have chosen the Assembly Rooms as their home location.
"This collaboration is all about nurturing young local talent and means we will be able to give budding young performers the chance to rehearse in a beautiful, historic, yet recently refurbished, theatre.
"It's been a really tough year in the industry and we're all hopeful that there is now light at the end of the tunnel. We're cautiously booking shows and getting ready to open the doors again and it's great that, all being well, we will be able to host the auditions in May.
"This marks the beginning of our tentative steps back to business, with The D-Day Darlings set to relaunch our entertainment programme with their concert on June 27.
"We're gradually adding to the programme now, so please do keep an eye on the website for updates and new shows in the coming weeks, and even more importantly, please get booking. We can't wait to have the theatre filled with the sounds of music, singing and laughter again."
Britain's Got Talent Finalists Join Forces with Colin Thackery to Commemorate Remembrance with brand-new record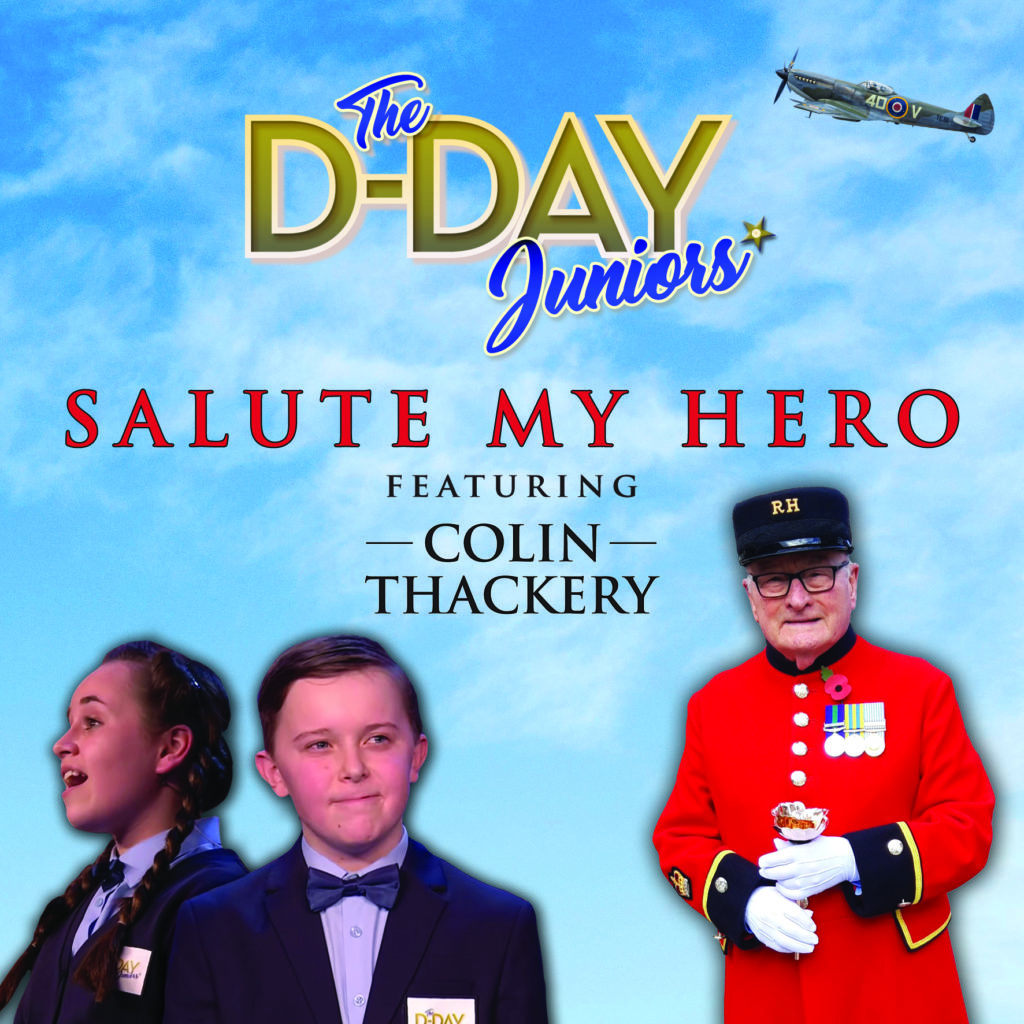 Britain's Got Talent Finalists Join Forces with Colin Thackery to Commemorate Remembrance with brand-new record

Britain's Got Talent winner, Colin Thackery, has joined forces with two other BGT alumni – finalists, the D-Day Darlings, hot off the back of their top 5 album 'I'll Remember You (VE Day Celebration Edition)' and the D-Day Juniors, who featured in this year's series and got four yeses from the judges.

The D-Day Juniors & Colin Thackery will feature on a brand-new remembrance themed single, 'Salute My Hero'. Released on Monday 2 November, written by the D- Day Darlings founder and lead singer Katie Ashby and pop mega-producer Tim Woodcock (JLS, The Vamps, Little Mix), the sweeping anthem continues the work of Katie and Tim by bringing new, original music in to the genre, following their successful collaboration on The D-Day Darlings' debut album, that featured three original songs alongside reimagined wartime classics.

Profits from the single will be donated towards the charity founded by the late Dame Vera Lynn, for whom The D-Day Darlings and Colin Thackery act as charity ambassadors. The Dame Vera Lynn Children's Charity supports children with motor learning conditions.

The song is also set to become the theme of the Remembrance Penny's Doorstep Salute Campaign, which will be supporting Combat Stress, the leading charity for UK veterans' mental health.

Katie Ashby, founder of the D-Day Darlings, and co-writer of 'Salute My Hero' said: 'This has been such a rollercoaster year and we wanted to mark remembrance this year with something special.
'Earlier in the year everyone embraced the 75th Anniversary of VE Day, and it felt like the right time to bring Colin & The Juniors together to release an original song for remembrance that pays respects to all of those who have served in our armed forces.

'We've been wanting to work with Colin Thackery for ages, and it's fantastic that we've finally been able to do it for this wonderful song whilst also supporting some incredibly worthy causes'.

Colin Thackery, Britain's Got Talent winner, said:
'It's been an honour and a privilege to work on this new song with Katie and the team. It's wonderful to keep the spirit of remembrance alive, and it's so important that new music is being written to commemorate everyone that has served in the armed forces.

'It's a brilliant song, with a great message, and I'm proud to be a part of it – I hope everyone downloads it and enjoys this new music.'

The single 'Salute My Hero' will be released for digital download on Monday 2 November.
'I'll Remember You The VE Day Celebration Edition' is out Now!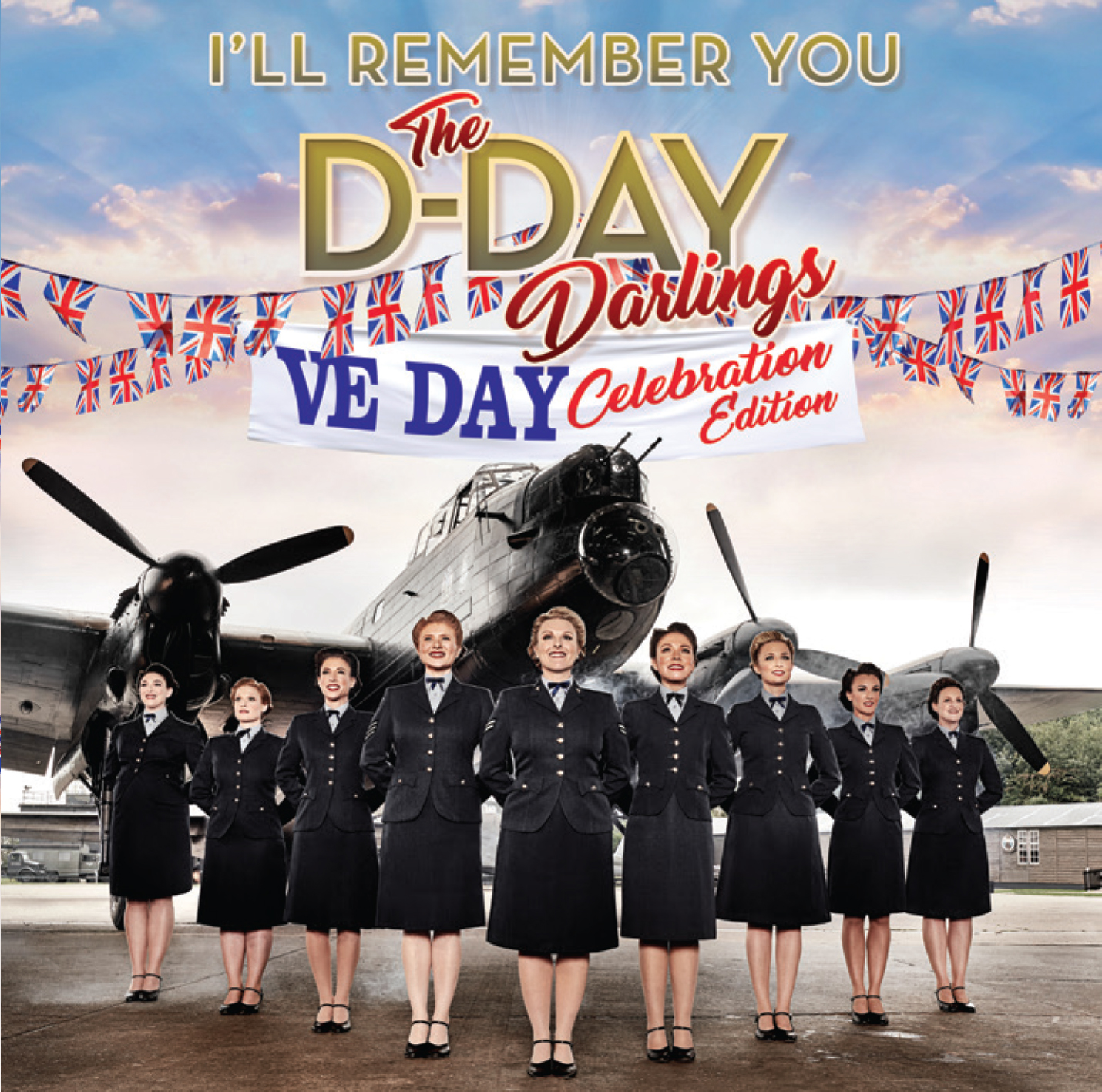 We are so proud to be releasing our VE Day 75 celebration album paying tribute to all those who have fought for our freedom and marking this special moment with such a beautiful collection of music.
We really hope the album unites the Nation, and that the beautiful songs give hope & light to everyone, especially through all we are experiencing today. We're so proud & grateful to honour our heroes, including the wonderful Dame Vera Lynn, and we couldn't do it without the support of our dedicated and loyal fans who support us so much and to whom we give so much love & thanks. Lots of exciting things to come as we honour VE Day 75 so keep your eyes peeled.
We dedicate this album to ALL heroes past & present! We salute you.
Sincerely yours,
The D-Day Darlings
We'll Meet Again… on Easter Sunday with another live broadcast
In our previous post, we ended with a promise that we'll meet again some sunny day. Whilst that day may still be a while away for public meetings, we are bringing you the next best thing to bring cheer to your Easter Sunday – another live performance to be streamed on our Facebook page!
On Sunday 12th April, lead Darling Katie will be hosting a special broadcast to lift the spirits of anyone who tunes in from 4.00pm, with a song or few from Katie herself and performances from the other members of The D-Day Darlings too.
Following on our live Mother's Day concert – which you can watch again here – we will again be reading out some of the wonderful emails sent in by our followers who would like to pass on special messages and dedications to loved ones they are currently unable to visit. This time, we will also be making surprise landline phone calls to a select few who don't have access to the internet to lift their spirits and give them the opportunity for a live Q&A.
As well as all this, Darling Katie will be sharing an exclusive insight into her inspiration behind writing the original songs for the Darlings and our next-generation wartime group, The D-Day Juniors.
This live broadcast seeks to bring smiles to the nation who we know must be finding these times of isolation and lockdown difficult. There are brighter times ahead but until then, we'll be doing all we can to rally the troops and spread a little cheer through our music which we know will unite us all.
We would like to add that our thoughts turn to those who need extra support during these extraordinary times and, as proud ambassadors of the Dame Vera Lynn Children's Charity, we kindly urge our followers to spare a moment to learn more about the 'Keep Smiling Through' Appeal and please help where you can to help them continue providing support to families and their very young children with cerebral palsy and other motor learning impairments.
Keep smiling and keep following us over the coming weeks for more exciting updates – let's get through this together!
Sincerely Yours,
The D-Day Darlings x
Keeping Calm and Carrying On…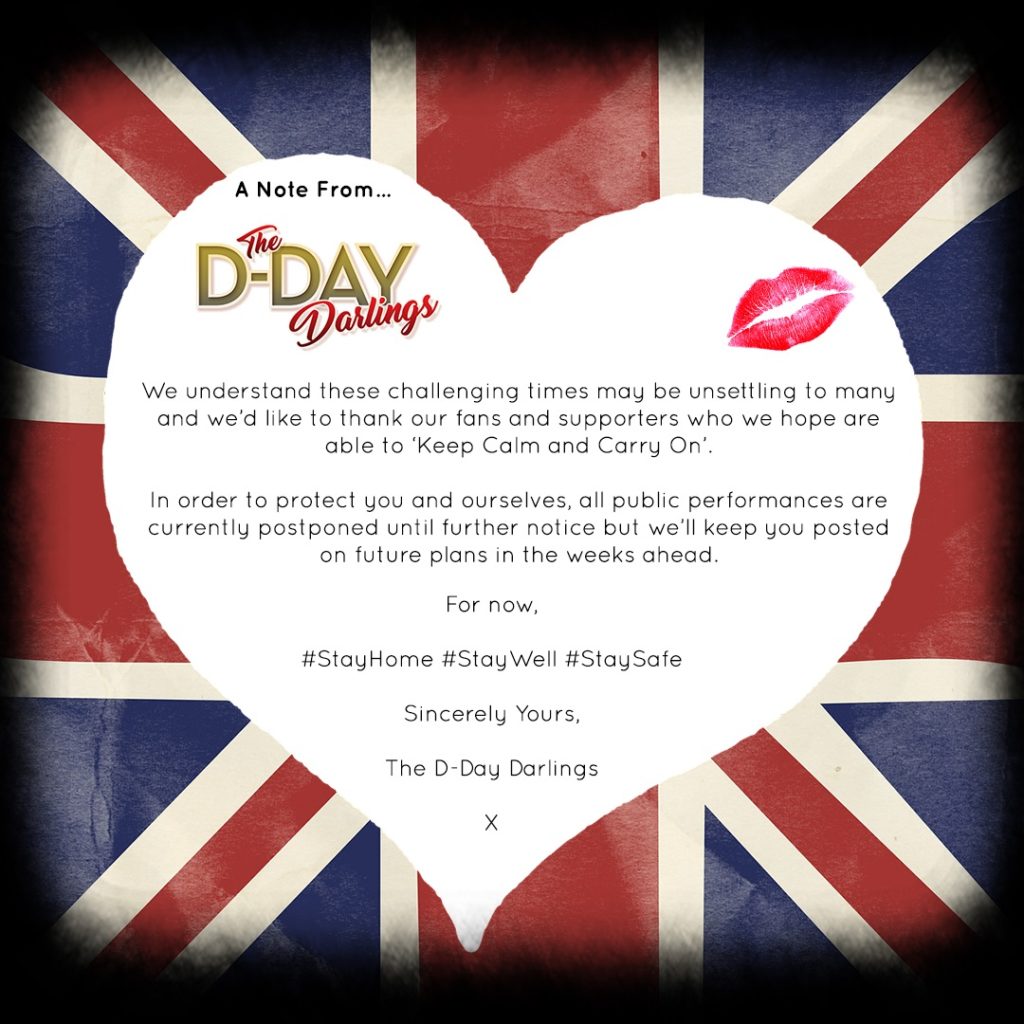 Due to recent circumstances prompted by COVID-19, it is with great sadness that a number of our upcoming performances will not be going ahead as planned. However, The D-Day Darlings still have plenty lined up for the coming months that we hope will keep the nation smiling through this time of crisis.
Though we may not be able to take to the stage in the traditional sense, we'll be broadcasting live concerts so you can have the Darlings perform inside your own home. Our first virtual concert was streamed live on Mother's Day, where we gave an exclusive performance of our new single, Sweetheart, written by lead member Katie Ashby as a tribute to Dame Vera Lynn for her birthday.
During the broadcast, we also read out some special messages, dedicating songs from our album to those who were unable to be with loved ones and we were touched by the requests that came in.
Many of our immediate public events are likely to be rescheduled and we'll keep you updated on those but, in the meantime, we'll be bringing our music to you all remotely and in any way we can. Be sure to keep your eyes peeled on our website and Facebook page for future live concert broadcasts.
Of course, these times are unsettling for us all, but we are The D-Day Darlings and we believe that now more than ever, we need to do whatever we can to get through it together. That's why we're doing our bit to lift everyone's spirits in the true Darling way, with light-hearted videos like this wartime-inspired guide to the #SafeHandsChallenge, featuring Darling Katie.
Our young troupe, The D-Day Juniors, will also be rallying the nation's children, keeping them entertained with a variety of WW2-inspired facts and activities. Through engaging posters and video guides which they'll be sharing across their social media platforms, the Juniors will be providing tips on wartime-themed arts, crafts, singalongs and games, along with facts about rationing, evacuees, gas masks and much more.
As we look towards an uncertain year ahead, one thing we are sure of is that our next album – a VE Day Celebration Edition of 'I'll Remember You' – is set to be released in May. Featuring an appearance from our Juniors singing their rendition of 'When You Wish Upon A Star', the album is now available for pre-order here.
We truly hope that we can help lift your spirits as we all endeavour to keep calm and carry on through the days to come. If you have any special requests or suggestions on what we can do to bring a smile to you or a loved one, please get in touch and let us know.
For now, we'd like to wish you all our love and urge you to all stand together as, together, we will stand strong. As our hero, Dame Vera Lynn, would say – "Keep Smiling Through"… We WILL meet again some sunny day.
Sincerely Yours,
The D-Day Darlings x
#PassItOn with The D-Day Juniors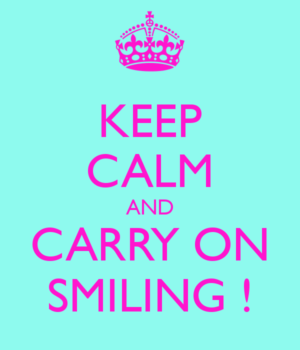 During these uncertain times, we feel it's more important than ever for us to stand together, 'Keep Calm and Carry On Smiling'. That's why our young troupe, The D-Day Juniors, have been thinking of different ways to entertain the nation's children with a variety of WW2-inspired facts and activities and, as we're all in this together, the grown-ups can get involved too!
From arts and crafts, to singalongs and games, the Juniors will be sharing video guides on how to get in the wartime spirit. Fancy turning your hand to creating 'make do and mend' toys of the era? Making an indoor air raid shelter? Growing your own vegetables? Writing postcards or filming song videos to bring cheer to the older generation who are stuck indoors?
There'll be fun tips, along with facts about rationing, evacuees, gas masks and much more on their social media channels in the coming weeks – keep your eyes peeled to Facebook, Instagram, Twitter or search for @ddayjuniors on TikTok.
In the meantime, they've put together this fun little colouring page which you can print out in the safety of your own home! Feel free to make it as colourful as you like using bright pencils, crayons or paints and display it proudly in your front window to brighten up someone's day as they take their daily walk by.
Take a photo of it and post it to their Facebook page with the hashtag #PassItOn for a chance to win a copy of our the brand-new VE Day Celebration Edition of our album, 'I'll Remember You', which features a song from The D-Day Juniors, 'When You Wish Upon A Star' and is set for release in May!
A tribute to the original, one and only Forces' Sweetheart
Today marks a special occasion for a remarkable lady and the greatest inspiration behind The D-Day Darlings, Dame Vera Lynn, who celebrates her 103rd birthday. Coinciding with this notable day, the Darlings release the single, 'Sweetheart', in honour of Dame Vera as a fitting tribute.
Heavily inspired by the strength Vera Lynn brought to World War II troops with her music, Katie has strived to follow in her idol's footsteps by bringing the wartime spirit to modern audiences. Having achieved great success with her group, The D-Day Darlings, Katie was thrilled to receive Dame Vera Lynn's glowing endorsement when meeting her in person last year.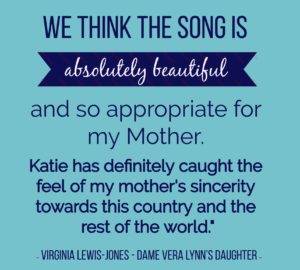 This personal highlight compelled the lead Darling to pen a heartfelt song which would honour the national treasure that boosted the morale of so many during wartime. Through their work with Dame Vera Lynn's Children Charity, The D-Day Darlings have formed a close relationship with Dame Vera's daughter, Virginia Lewis-Jones, who suggested this musical tribute would make the most poignant gift for her mother's birthday.
The dedication to the original Forces' sweetheart fulfils a lifelong ambition for Katie Ashby, lead singer and founding member of The D-Day Darlings, who co-wrote and produced the song with Tim Woodcock. Illustrating why Dame Vera will forever remain everyone's sweetheart, the song is elevated in its sentiment by the musical accompaniment provided by the Royal Philharmonic Orchestra.
'Sweetheart' has been released by the group's signed label, Sony Music Entertainment, and can be listened to here. The song also appears on the group's next album which is available for pre-order here.
The D-Day Darlings will be performing this song as a special tribute at upcoming engagements throughout the year, including the VE Day 75th Anniversary Concert for Dame Vera Lynn Children's Charity. Headlining the event at Clair Hall on Sunday 14th June, the Darlings will be joined by veteran and winner of BGT 2019, Colin Thackery, who recently celebrated his 90th birthday.
Though the Darlings are looking ahead to brighter times, current developments affecting individuals and communities worldwide stand to dampen the spirits of many. As uncertainty spreads across the world, the wartime group invite others to reflect on the courage and contribution made by Dame Vera Lynn during World War II. In the sweetheart's own words, "Keep smiling through just like you always do, 'til the blue skies drive the dark clouds far away."
The D-Day Darlings would like to wish their hero and greatest inspiration, Dame Vera, a very 'Happy Birthday' and thank her for all she has done for our country with this special song. You truly are everyone's Sweetheart!

A Christmas To Remember with The D-Day Darlings
As 2019 comes to a close, along with the 75th anniversary of D-Day and the Battle of Normandy, The D-Day Darlings have been reflecting on the highlights of the year whilst looking ahead to more exciting memories yet to be made in the run up to Christmas and throughout the coming year.
Since reaching the finals of Britain's Got Talent in 2018, the Darlings were signed to Sony Music and went on to release their debut album, 'I'll Remember You', which reached number 15 in the official album charts. Having sold over 60,000 copies, the Darlings were presented with a Silver Disc award and became recognised as the best-selling female group from Britain's Got Talent, receiving a BRIT Certified Breakthrough Award.
This propelled the group into the spotlight as they made a number of media appearances, serenading the audiences of ITV's Lorraine and This Morning as well as listeners of The Michael Ball Show on BBC Radio 2 along with many other radio and TV programmes.
Over the year that followed the release of their album and subsequent accolades, the wartime group had the opportunity to commemorate the 75th anniversary of D-Day with performances at a number of significant events, including the MV Boudicca cruise to Normandy, the RHS Chelsea Flower Show for the unveiling of The D-Day 75 Garden and at Union Chapel, London where they premiered their new theatre show in front of Royals – to name but a few.
More recently, the group turned their attention to Armistice commemorations and, along with raising funds and awareness for Poppy Day, they visited care homes and veterans across the UK where they shared the memories and stories of many inspiring individuals who encountered wartime Britain first-hand.
Attending the Festival of Remembrance at the Royal Albert Hall was also a momentous occasion for the Darlings, who were humbled to be amongst Royalty, veterans and members of the Royal British Legion, a charity they have supported since forming over 10 years ago. Of course, visiting their idol, Dame Vera Lynn, at her home and quickly becoming ambassadors of the worthy cause, Dame Vera Lynn Children's Charity was another unforgettable experience for the group.
Demonstrating a commitment to passing on the message of Remembrance to future generations, director and leading member of The D-Day Darlings, Katie Ashby, founded and launched mini group, The D-Day Juniors. Consisting of children aged between 6 and 16 years, the troupe also performs classic wartime songs and original material, having released their own single and music video, 'Pass It On'. The Juniors have already performed at high-capacity venues in front of large audiences and have just added to new members to the cast in preparation for an exciting opportunity which will be announced shortly.
It's undoubtedly been an incredible year but it's not over yet and the Darlings will be returning to the air waves and TV screens in the coming weeks to perform a mixture of songs from their album and Christmassy classics, and will be promoting their latest single – an original festive song of Remembrance titled, 'A Christmas To Remember', soon to be released on Spotify and iTunes.
Looking forward to 2020, the Darlings will be commemorating the 75th anniversaries of VE Day and VJ Day and, together with The D-Day Juniors, they'll be continuing efforts keep to the wartime spirit alive and into the new generation. And, as Christmas is a time for giving, the Darlings and Juniors will carry this message through the coming months as they endeavour to support the charities closest to their hearts – The Royal British Legion, Dame Vera Lynn Children's Charity and Scotty's Little Soldiers.
For now, The D-Day Darlings would like to thank everyone who has followed them on their journey so far and wish all their supporters 'A Christmas To Remember'.
The D-Day Juniors in the media with new wartime single, 'Pass It On'.
The D-Day Darlings receive BRIT Certified Breakthrough Award