Darling Nichola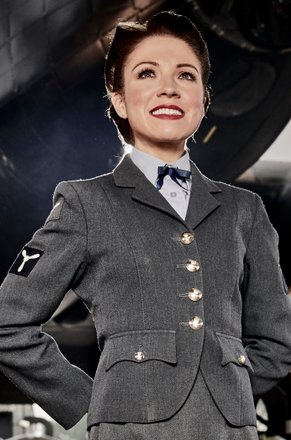 I was born at the Luton and Dunstable hospital but grew up in Camberley, Surrey as a child. We then moved to Peterborough for the majority of my young adult years.  After my school Years I trained at The London School of Musical Theatre and gained a Diploma in Musical Theatre.
My first professional engagement was working as a singer on an entertainments team in a hotel shaped like a ship in Folkestone – I got woken up by seagulls every morning and I was a stone's throw away from the White Cliffs of Dover. Unbeknown to me I'd become so attached to its legacy with the group I went on to join years later.
I am proud to say I am one of the original members of The D-day Darlings when the group was put together, Katie asked if I would join to complete the original trio. We rehearsed tirelessly perfecting harmonies and lyrics to really do justice to the beautiful music from WW2.  I'll never forget Katie getting us our first gig and how excited and scared we all were nervously applying our red lipstick and getting into our RAF suits…we never looked back from that moment and have continued to work all over the UK and in Europe constantly for the last 10 years.
My two favourite song has to be 'A Nightingale Sang in Berkley Square'. I get so lost in the beautiful lyrics. I love the way the music from this era captivates audiences and evokes so many emotions and memories stirred.
There are many singers I love but Vera Lynn and The Andrews Sisters have my vote every time. They have shaped beautifully the last 10 years of my life working with the girls and hold so many lovely memories for me.
What do I love about The D-day Darlings?  I love the memories it has bought and continues to bring me, the amazing people I have met, the adventures I have been on and the wonderful girls I work with. I could go on forever and just feel so proud to be in this group bringing back this beautiful music for people to listen to…from the war Veterans to young children proudly waving their flags watching us.
My absolute favourite things about Britain…a first cup of tea in the morning, roast dinners with my family, SMASH (mash potato), the smell of freshly cut grass and BBQ's, the beauty of the land and the seasons we experience one after the other.