"I am pleased to support The D-Day Darlings".
Dame Vera Lynn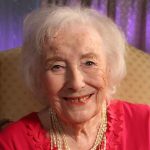 BRITAIN'S GOT TALENT FINALISTS 2018
Classy, authentic, genuine, respectful, beautiful and amazing! The vocals and harmonies have been great.
Simon Cowell
Most incredible celebration of this country, it's nice to have a job where you can say thank you. Absolutely wonderful, beautiful performance.
David Walliams
I've loved you from the minute you walked on stage, you sang it beautifully and you all look amazing. It was Fantastic.
Amanda Holden
It's so important that we remember people, keep their spirits alive and you do that brilliantly. Most polished act, vocals are just perfection, you sounded absolutely wonderful.
Alesha Dixon
We think the song 'sweetheart' is absolutely beautiful and so appropriate for my Mother.   Katie has definitely caught the feel of my Mother's sincerity towards this Country and the rest of the world.
Virginia Lewis Jones - Dame Vera Lynn's Daughter