Darling Emily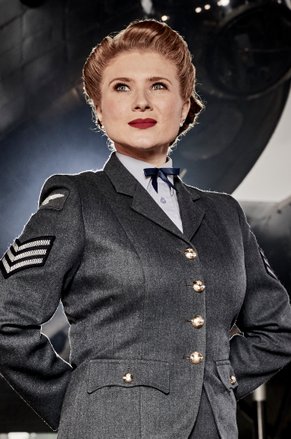 I was born in Coventry where I grew up living with my Mum, Dad and Sister and we were very lucky to have my Grandparents living next door. I began my professional singing career at the age of 16 at the historic Coombe Abbey Hotel where I took part in Medieval Banquets whilst studying for my A-levels.
I then went on to study Theatre Studies & French at Warwick University. After graduating from Warwick I attended Central School of Speech and Drama to train in Musical Theatre.
Since then I've appeared in numerous concert tours, worked as a lead vocalist for Cunard Line and appeared in pantomimes and productions including Me & My girl, Crazy for You and The Canterville Ghost, touring Italy and Sicily.
I joined The Darlings in 2014. I was delighted to celebrate such wonderfully powerful music and witness first hand its significance and the personal memories it can evoke.
Being part of the team has helped me learn so much about my own families military history. I had always known that my Grandpa was a Lancaster Bomber pilot and my family were very proud of this, but having the opportunity to learn so much more about the conditions in which he served, the significance of his contribution, the risk (55,000 of 125,000 bomber crew were lost) and even stand under the wing of the majestic Lancaster plane has been very emotional for me.
My Dad's Father joined the second battalion Monmouthshire regiment of 53rd Welsh division as a specialist field wireless operator and from day 2 of the D-Day landings and fought his way across Europe, ending the war in Yugoslavia where he was demobbed as a lance corporal. Fast forward to 1959 and my Uncle entered the RAF to serve for 11 years as a service air craft instrument technician.
It's hard to pick a highlight from my time with the D-Day Darlings as each and every performance feels very special, but two memorable occasions are singing for Liberation Day Celebrations in Guernsey, and performing for the Chelsea Pensioners at The Royal Hospital for a commemorative Tea Dance.