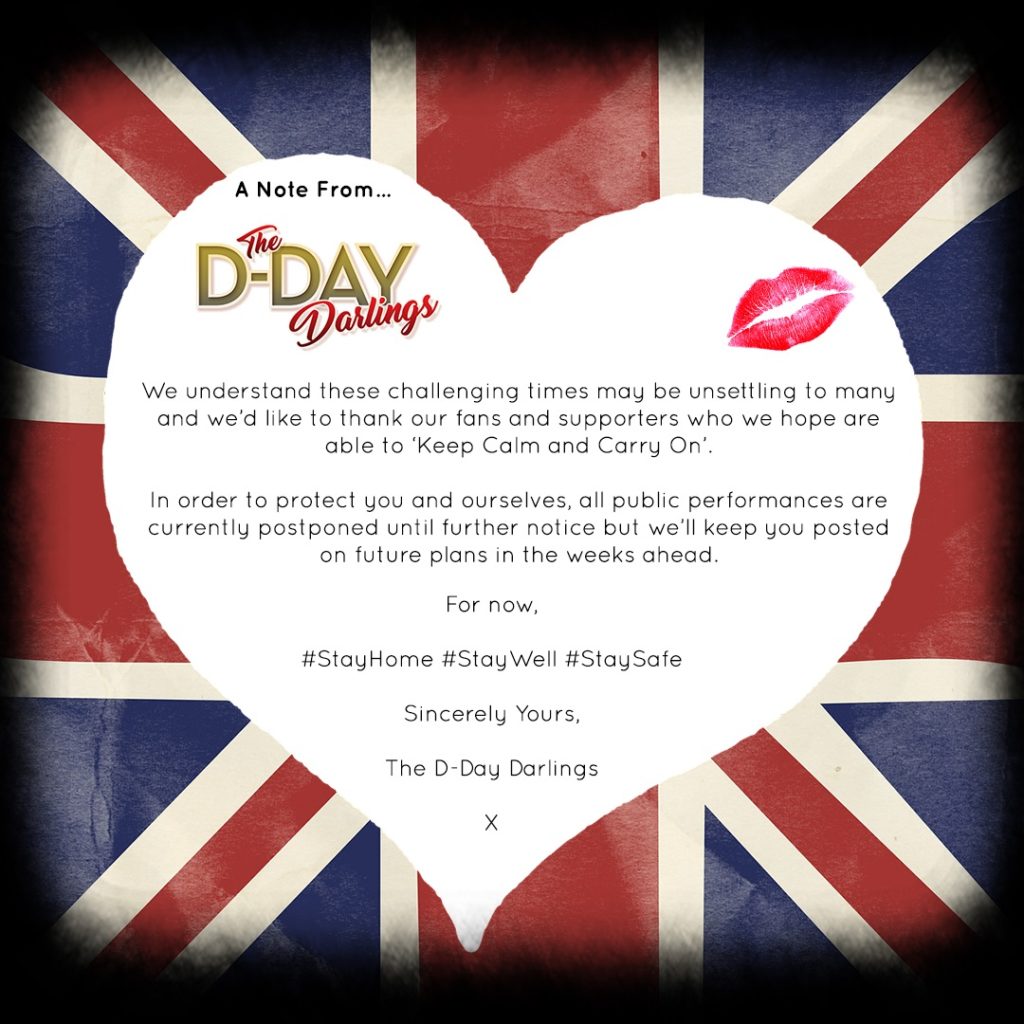 Due to recent circumstances prompted by COVID-19, it is with great sadness that a number of our upcoming performances will not be going ahead as planned. However, The D-Day Darlings still have plenty lined up for the coming months that we hope will keep the nation smiling through this time of crisis.
Though we may not be able to take to the stage in the traditional sense, we'll be broadcasting live concerts so you can have the Darlings perform inside your own home. Our first virtual concert was streamed live on Mother's Day, where we gave an exclusive performance of our new single, Sweetheart, written by lead member Katie Ashby as a tribute to Dame Vera Lynn for her birthday.
During the broadcast, we also read out some special messages, dedicating songs from our album to those who were unable to be with loved ones and we were touched by the requests that came in.
Many of our immediate public events are likely to be rescheduled and we'll keep you updated on those but, in the meantime, we'll be bringing our music to you all remotely and in any way we can. Be sure to keep your eyes peeled on our website and Facebook page for future live concert broadcasts.
Of course, these times are unsettling for us all, but we are The D-Day Darlings and we believe that now more than ever, we need to do whatever we can to get through it together. That's why we're doing our bit to lift everyone's spirits in the true Darling way, with light-hearted videos like this wartime-inspired guide to the #SafeHandsChallenge, featuring Darling Katie.
Our young troupe, The D-Day Juniors, will also be rallying the nation's children, keeping them entertained with a variety of WW2-inspired facts and activities. Through engaging posters and video guides which they'll be sharing across their social media platforms, the Juniors will be providing tips on wartime-themed arts, crafts, singalongs and games, along with facts about rationing, evacuees, gas masks and much more.
As we look towards an uncertain year ahead, one thing we are sure of is that our next album – a VE Day Celebration Edition of 'I'll Remember You' – is set to be released in May. Featuring an appearance from our Juniors singing their rendition of 'When You Wish Upon A Star', the album is now available for pre-order here.
We truly hope that we can help lift your spirits as we all endeavour to keep calm and carry on through the days to come. If you have any special requests or suggestions on what we can do to bring a smile to you or a loved one, please get in touch and let us know.
For now, we'd like to wish you all our love and urge you to all stand together as, together, we will stand strong. As our hero, Dame Vera Lynn, would say – "Keep Smiling Through"… We WILL meet again some sunny day.
Sincerely Yours,
The D-Day Darlings x