Darling Jessica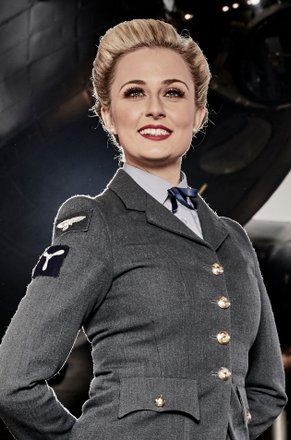 I was born in Solihull, Birmingham in 1990. Being the youngest of three siblings, growing up in the Midlands was great fun, and with lots to do I was never short of a hobby or two.
As soon as I had shown an interest in singing and dancing I was put into a local dance school where it became quite clear that I loved the Performing Arts. I trained at the Arden School of Theatre in Manchester for three years and gained a BA (Hons) in Musical Theatre. I then began a career in the events industry whilst still performing for various different projects.
When I was performing for a company in 2014 I met Emily Jane who introduced me to the D-Day Darlings. It was then in 2015 that I auditioned and became a part of this amazing team. I am so grateful! Singing some of the most amazing songs from my favourite era is only a small factor of being a D-Day Darling. The fashion, music, history and remembrance of the era are fascinating!
My favourite war-time song has to be "I'll Be Seeing You".  The lyrics are so moving and each time I hear it, it's as if I'm listening to it for the first time all over again. Along with Ella Fitzgerald and Vera Lynn, Doris Day has to be one of my favourite performers of all time, her charm, wit and sense of humour is so unique and listening to 'Dream a Little Dream Of Me' with my grandma is a very fond childhood memory.
Being a D-Day Darling means so much to me, I love singing with such amazing women, we are all very close and get to share incredible experiences but above all I am proud! Keeping the wartime spirit alive and raising morale for veterans past and present is an experience that I will always cherish. The emotion and memories that the music evokes is so special, from young to old, the music means something to everybody and we hope to keep this spirit alive in the new generation.
My favourite thing about being British has to be...Roast Dinners! You cannot beat a good hearty Roast Dinner with a Yorkshire pudding and gravy! 
I also have a fascination with historic buildings and we have some of the most beautiful landmarks.
My family connections to the war come from my Great Great Grandfather, Private Leonard Lesley Hardy who served for our Country in WW1. He sadly lost his life in battle in 1916 at the age of 30 and is buried on the Somme. Leonard left his family of 3 children behind, the youngest being a baby in arms.
I have heard many fascinating stories from my grandparents of what life was like living through WW2. It is so difficult to imagine how times would have been then; it's a reminder of how in the 21st Century we can take so much for granted. Growing up with these stories certainly influenced my passion for the vintage eras. I know they would have loved the D-Day Darlings.
There have been so many highlights performing with the D-Day Darlings; celebrating 100th Birthdays, performing in the Isle of Man and singing for our Forces at RBL events.  My proudest moment as a D-Day Darling so far has to be singing for Veterans in Normandy. We met some of the most incredible men and women who served for our country in WW2. Their stories are the kind that you only seem to find in books! Their spirit and gratitude was so moving, it was an experience that I will never forget. Seeing the memories that we bring back and the atmosphere that we create is very rewarding.
We will remember them x