Darling Katie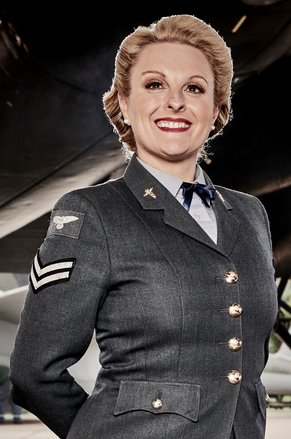 I was born March 1978, at home, in West Yorkshire and had a very happy childhood in Sandal, Wakefield with my Mother, Father and 3 sisters. Life was busy for the whole Family, Dad was a market trader on Wakefield market, running several stalls and shops, instilling a strong work ethic with us from an early age. Mum was kept busy helping with the family business, caring for the home and running my sisters and I around for a huge amount of hobbies and training each week!
Gymnastics, acrobatics, skiing, ice-skating and athletics made up my week but my first love and priority was always dancing and singing.
I trained 6 nights a week at The Mullen School Of Theatre in Morley, Nr Leeds, in dance, vocal and drama and gained professional credits on stage and screenland worked with various house hold names from an early age, putting me in great shape to embark on a professional  career.
Being in a musical family and with Dad's extensive record collection, the music of the 40's and 50's was the sound track of my youth. Artistes such as Doris Day, Frank Sinatra, Ella Fitzgerald, Keely Smith and of course Vera Lynn are now huge inspirations of mine and a career dedicated to that genre of music was an obvious decision for me.
Bringing the D-Day Darlings together and creating an act that not only allows me to perform such wonderful music, with very talented friends, but to keep the spirit of the wartime era alive, means a great deal to me. There is no greater reward than seeing memories come flooding back for so many people at each performance, to see them be transported back to a time that none of us should forget, is truly moving and fills me with pride!
Anyone that knows me, knows I'm very proud to be British. I'm proud of our heritage and the way we live freely thanks to our heroes, I love the uniqueness of the Royal Family and the dedication of our forces, oh and I do love a good old cup of tea (Yorkshire blend, of course).
Doing this job and learning so much about our Family's connection to the war years is incredible. My Grandfather, Nicholas Polombo, was in the American Army, we never knew him, my step Grand Father, Clifford Storr, was in the RAF as Flight Navigator for the Lancaster Bomber, My Grand Father in Law, Charlie Whale, was in the British Army and my Great Grandmotheal, Olive Ashby, worked in the ammunition's factory in Leeds and took evacuees into her home, receiving personal thanks from the Queen!
There are so many highlights to pick from and I can honestly say that every performance is amazing, but performing at the RBL's Festival Of Remembrance was a truly an honor. To sing for so many veterans from all wars, past and present, to hear their stories, see them being awarded for their heroism was a very moving experience for me. This performance gave me my first real experience as a forces sweetheart and made me extremely proud!