Today marks a special occasion for a remarkable lady and the greatest inspiration behind The D-Day Darlings, Dame Vera Lynn, who celebrates her 103rd birthday. Coinciding with this notable day, the Darlings release the single, 'Sweetheart', in honour of Dame Vera as a fitting tribute.
Heavily inspired by the strength Vera Lynn brought to World War II troops with her music, Katie has strived to follow in her idol's footsteps by bringing the wartime spirit to modern audiences. Having achieved great success with her group, The D-Day Darlings, Katie was thrilled to receive Dame Vera Lynn's glowing endorsement when meeting her in person last year.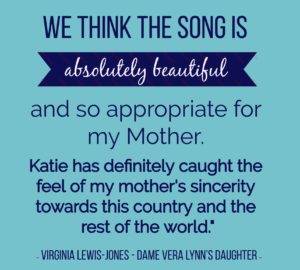 This personal highlight compelled the lead Darling to pen a heartfelt song which would honour the national treasure that boosted the morale of so many during wartime. Through their work with Dame Vera Lynn's Children Charity, The D-Day Darlings have formed a close relationship with Dame Vera's daughter, Virginia Lewis-Jones, who suggested this musical tribute would make the most poignant gift for her mother's birthday.
The dedication to the original Forces' sweetheart fulfils a lifelong ambition for Katie Ashby, lead singer and founding member of The D-Day Darlings, who co-wrote and produced the song with Tim Woodcock. Illustrating why Dame Vera will forever remain everyone's sweetheart, the song is elevated in its sentiment by the musical accompaniment provided by the Royal Philharmonic Orchestra.
'Sweetheart' has been released by the group's signed label, Sony Music Entertainment, and can be listened to here. The song also appears on the group's next album which is available for pre-order here.
The D-Day Darlings will be performing this song as a special tribute at upcoming engagements throughout the year, including the VE Day 75th Anniversary Concert for Dame Vera Lynn Children's Charity. Headlining the event at Clair Hall on Sunday 14th June, the Darlings will be joined by veteran and winner of BGT 2019, Colin Thackery, who recently celebrated his 90th birthday.
Though the Darlings are looking ahead to brighter times, current developments affecting individuals and communities worldwide stand to dampen the spirits of many. As uncertainty spreads across the world, the wartime group invite others to reflect on the courage and contribution made by Dame Vera Lynn during World War II. In the sweetheart's own words, "Keep smiling through just like you always do, 'til the blue skies drive the dark clouds far away."
The D-Day Darlings would like to wish their hero and greatest inspiration, Dame Vera, a very 'Happy Birthday' and thank her for all she has done for our country with this special song. You truly are everyone's Sweetheart!