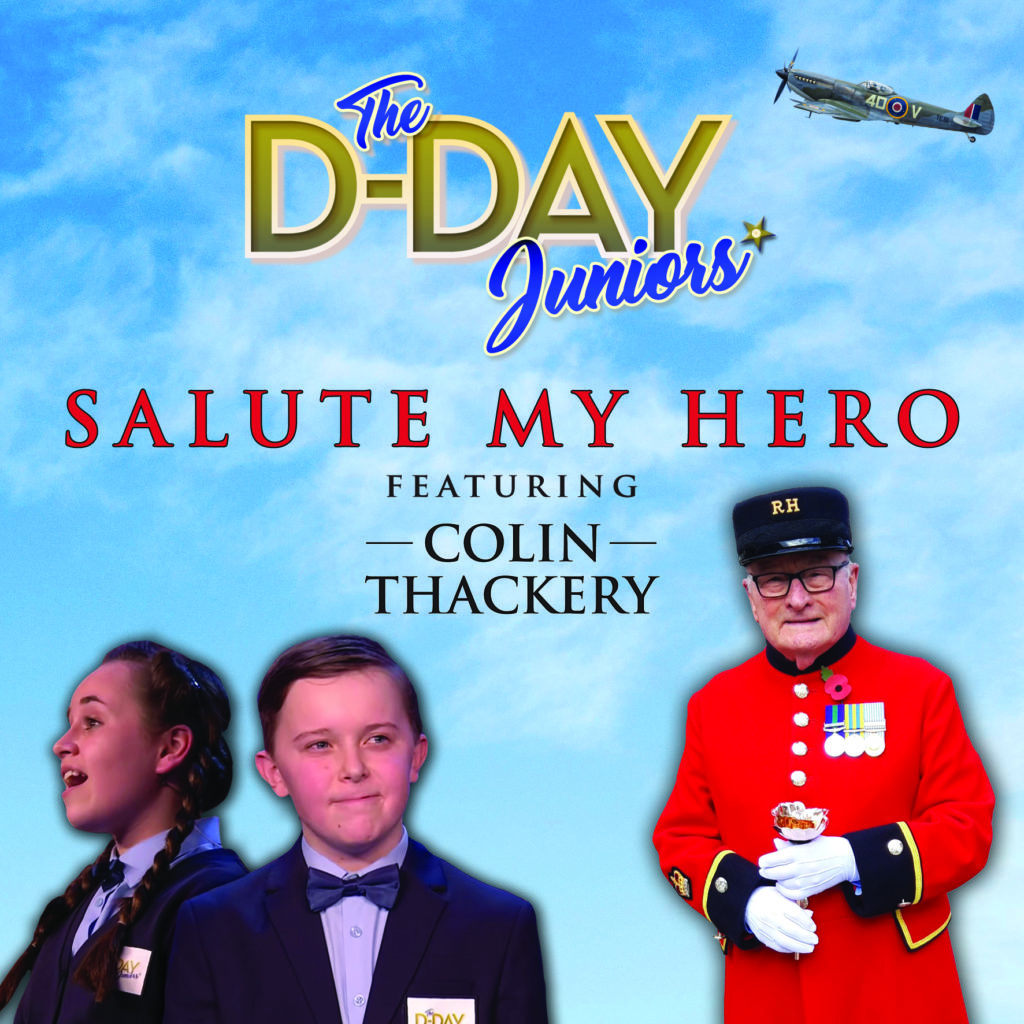 Britain's Got Talent Finalists Join Forces with Colin Thackery to Commemorate Remembrance with brand-new record

Britain's Got Talent winner, Colin Thackery, has joined forces with two other BGT alumni – finalists, the D-Day Darlings, hot off the back of their top 5 album 'I'll Remember You (VE Day Celebration Edition)' and the D-Day Juniors, who featured in this year's series and got four yeses from the judges.

The D-Day Juniors & Colin Thackery will feature on a brand-new remembrance themed single, 'Salute My Hero'. Released on Monday 2 November, written by the D- Day Darlings founder and lead singer Katie Ashby and pop mega-producer Tim Woodcock (JLS, The Vamps, Little Mix), the sweeping anthem continues the work of Katie and Tim by bringing new, original music in to the genre, following their successful collaboration on The D-Day Darlings' debut album, that featured three original songs alongside reimagined wartime classics.

Profits from the single will be donated towards the charity founded by the late Dame Vera Lynn, for whom The D-Day Darlings and Colin Thackery act as charity ambassadors. The Dame Vera Lynn Children's Charity supports children with motor learning conditions.

The song is also set to become the theme of the Remembrance Penny's Doorstep Salute Campaign, which will be supporting Combat Stress, the leading charity for UK veterans' mental health.

Katie Ashby, founder of the D-Day Darlings, and co-writer of 'Salute My Hero' said: 'This has been such a rollercoaster year and we wanted to mark remembrance this year with something special.
'Earlier in the year everyone embraced the 75th Anniversary of VE Day, and it felt like the right time to bring Colin & The Juniors together to release an original song for remembrance that pays respects to all of those who have served in our armed forces.

'We've been wanting to work with Colin Thackery for ages, and it's fantastic that we've finally been able to do it for this wonderful song whilst also supporting some incredibly worthy causes'.

Colin Thackery, Britain's Got Talent winner, said:
'It's been an honour and a privilege to work on this new song with Katie and the team. It's wonderful to keep the spirit of remembrance alive, and it's so important that new music is being written to commemorate everyone that has served in the armed forces.

'It's a brilliant song, with a great message, and I'm proud to be a part of it – I hope everyone downloads it and enjoys this new music.'

The single 'Salute My Hero' will be released for digital download on Monday 2 November.