BIOGRAPHY
Following their success on 2018's Britain's Got Talent, The D-Day Darlings were signed to Sony Music UK and their hugely successful debut Album "I'll Remember You" released on 9th Nov 2018 charted at number 15 in the official album charts, receiving a Silver Disc award for sales of over 60,000 and becoming The Best Selling Female group from Britain's Got Talent, also receiving a BRIT CERTIFIED BREAKTHROUGH AWARD.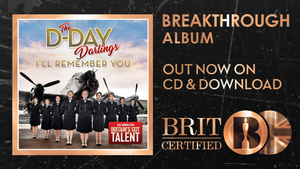 The group was formed 10 years ago by founder and lead singer Katie Ashby after she recognised the importance of this music and how it resonates with people like no other genre of music. Katie says, "To see how these songs affect people and how the melody and lyrics evoke such memories was truly eye-opening for me. It was this that made me want to build a career singing these timeless songs and bring back memories for so many people."
The Darlings, originally formed as a trio, became an overnight success and the group's popularity grew with young and old alike, so more Darlings were signed to join to the group, creating an army of girls to continue their mission of keeping the wartime spirit alive and into the new generation.
Katie joined forces with The Royal British Legion becoming official fundraisers for the RBL, raising thousands of pounds each year and when Dame Vera Lynn gave her endorsement of the group's work, The D-Day Darlings truly became the UK's most loved sweethearts and their popularity grew even further.
Katie says, "Vera Lynn is my biggest inspiration and I want to continue her legacy both musically and as a woman who contributed so much during the war. To have her blessing to do so is overwhelming and an absolute honour."
The quest to continue spreading the message of Remembrance into the modern and future generations also inspired Katie to form a young troupe of musical messengers, 'The D-Day Juniors', a group of performers aged between 6 and 17 years which brings original wartime-inspired songs to events nationwide.