Darling Louise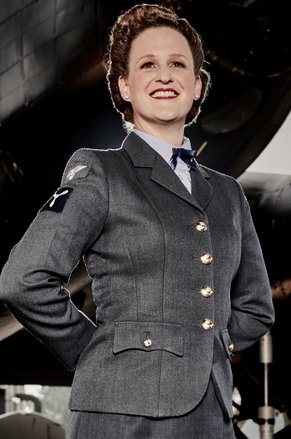 I was born and grew up in Weston-Super-Mare in Somerset and was one of 4 children. I have moved around quite a lot but currently live in Leicester with my husband and two children.I trained at Middlesex University in Performing Arts and Dance. After graduating I went on to work with many different shows and danced for a number of years on cruise ships. I feel very lucky that I'm able to work in an industry that is also my passion.
I have been a D-Day Darling since 2013. I have loved being a part of the group and have performed at many different places but I especially enjoy singing for veterans. I find it fascinating talking to other people and listening to their stories. Every performance with the D-Day Darlings is exciting and I really enjoy it when everyone dresses up and gets involved with the whole war time spirit.
My proudest moment with the D-Day Darlings was performing on the stage at the Palladium for Britain's Got Talent with my Grandfather's picture behind me. He was a pilot in WW2 and flew Lancaster Bombers. I have some great pictues of him from that time, he always said how much fun they had.
I love the 1940's style and fashion. It's great that I have an excuse to regularly dress up, do my hair and put on some red lipstick! My favourote song of that era has to be the White Cliffs of Dover. To me it sums up everything of that time. Vera Lynn was a fantastic singer and the songs she sang filled everyone with hope. When singing this song with the D-Day Darlings you can see and feel the memories it evokes from people.
I can't wait to see you all at one of our performances, Keep Calm and Carry On the D-Day Darlings are here!