Darling Kylie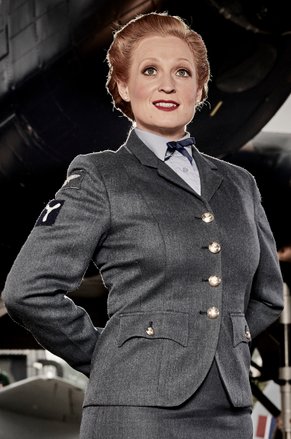 I was born in Walsgrave Hospital, Coventry in May of 1988 and grew up an only child in a small market town called Daventry. My love for the theatre developed when at the age of 13 when I was given the opportunity to perform as part of the onstage choir in the UK Tour of Joseph & the Amazing Technicolor Dreamcoat; an unforgettable experience. My theatrical training continued when at the age of 21, I moved to London to train in Musical Theatre at Mount view Academy of Theatre Arts.
From the day I was born, my father has been a double bass player in various rockabilly / rock 'n' roll bands and so my love for music and all things vintage began.
My all time favourite song from the 1940s is Boogie Woogie Bugle Boy and so when I became a D Day Darling, I was thrilled to see it in our repertoire! Another favourite of mine (which has a vintage feel) is 'That Man' by Caro Emerald. Emerald is a modern day advocate for keeping vintage style music alive much like The D Day Darlings with our mission to honour the era and those who fought during WWI & WWII.
Being the newest member of the D Day Darlings, I am very much looking forward to what's on the horizon and one thing's for sure ... I am extremely thankful to have had the opportunity to delve into my family's history and find out all about their life in the War. Two of my Great Great Grandfathers fought in World War I and both went missing in action just a few days apart in July of 1916, both men left behind wives and young children.
What do I love about Britain? Sunday Roasts! Though there are many close seconds; the countryside, British history, ancient landmarks and of course that famous sense of humour!