Darling Alex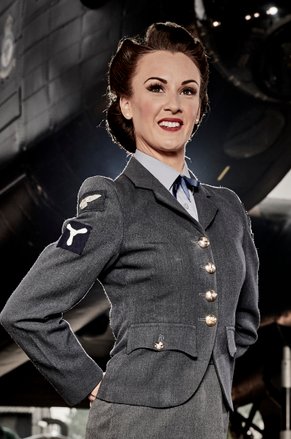 I was born and bred in good old Yorkshire with my mum, sister and lovely grandparents. I was brought up with singing and dancing, as my nan was a dancer in the local operatic societies and my mum followed in her footsteps, so it was only natural that I would dream of being on the stage.
I started singing at a young age and achieved my singing training with London College of Music and I'm now an Associate of LCM which I am very proud of. I did start professional work at the age of 18 which has taken me all over the world! I feel very lucky to have been given the opportunities to see such amazing places whilst doing my dream job.
I'm a big family girl and in my spare time enjoy visiting my sister's family over in Ireland and spending quality time with my friends and family…. and my beautiful little puppy, Rupert.
I joined The D-Day Darlings in 2015 and have honestly loved every minute of it! The performances we have been lucky enough to take part in have been incredible and it is such an amazing feeling to be a part of something that has such meaning to so many different people, from veterans to people currently serving in the military and even the younger generation who always dance and sing a long to our shows and really fill the air with morale building spirit.
I feel honoured to be able to keep the spirit of that era alive by sharing this genre of music. This style of music is my favourite style to perform, as the songs have so much meaning and the three part harmonies are really enjoyable to sing! Not only do I get to perform in a show I love, in the style of music that I love, but I get to share the stage with a group of amazing girls who I can honestly say are true friends.
One of my my favourite D Day memories is when we performed for the RAF at their formal banquet, it was very strict, no dancing. When we encored with Boogie Woogie Bugle Boy, the entire room was on their feet, tables and chairs, going wild! We were later told they weren't allowed to do this, its how Imagined this music would resonate with people back in the war. My favourite song is I'll Be Seeing You, it's such a beautiful song full of nostalgia for our heroes who never made it home.
Having spent a lot of my adult life travelling the world, it always made me appreciate home much more and the things Britain has to offer: Rain, Yorkshire Tea, The Royal Family, Rain, Sunday Dinner, Beautiful countryside, amazing landmarks, Rain, SAUSAGE ROLLS! (Darling Alex loves her food)
My great great grandfather was a Sergeant in WW1 and was sadly killed in action along with his brother who was killed on the very last day of the war. My nan's cousin Harry was an airframe mechanic engineer in WW2 in the RAF and the story goes that he worked on Johnny Johnson plane who was involved in the Dambusters raid of 1943. Johnny Johnson gave cousin Harry the badge from his hat, which we still have today.
My great grandfather was a home-guard during the Sheffield Blitz and my lovely Grandpa served his country in the catering corps in 1948 and the house that he lives in now, was once an RAF base for the barrage balloons which defended the area from aircraft attacks. I love seeing my Grandpa's face light up when he tells his stories from when he was younger.
I am proud to be a Darling!