Darling Emily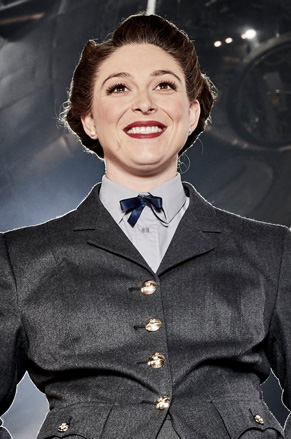 I was born in Surrey and had the happiest childhood with my brother Ollie, my Mum (who jam packed every day and weekend with countless activities) and my Dad. My Mum was also the kind one who ferried me to countless ballet and dance classes throughout my entire childhood. My first encounter of performing on a big scale, was aged 8, singing a solo at The London Palladium - a moment I could never forget.
Since then, I haven't stopped performing. Aged 16, I trained at The London Studio Centre, and a few years later I went on to complete a Postgraduate Diploma at Mountview Academy of Theatre Arts (where I met fellow D Day Darling, Kylie Bates). As for hobbies, I love spending time in my lovely home in Ripley with my husband David, meeting up with friends for dinner, spending time with my family and my favourite hobby of all is definitely going on holiday!
I joined The D Day Darlings in January 2017 and I have loved every performance. I am very proud to sing these wonderful songs, and to help keep the wartime spirit alive. My personal favourite songs to sing are 'A Nightingale Sang In Berkeley Square',  'I'll Be Seeing You' and 'When The Lights Go On Again'. They have such touching words and sentiments.
Being British is very special of course; we have so many great British traditions. I love our seasons (every one of them), I love the great British Seaside, fish and chips and a good cup of Yorkshire Tea! I love finding new parts of Britain and exploring the beautiful countryside.
My family have been connected with the RAF for a long time. My Great Grandad Poppa, (who lived to 100 years old) was in the RAF during WW2. Sadly, we do not know too much of his particular job description, because I believe it was a rather secret operation. As I've grown up, I always wish that I had pressed him for more information, don't we all! One of my other Grandad's also served in the RAF during National Service. My Auntie is still a serving flight sergeant in the RAF, as was my Uncle. My husband's family also had very strong connections in particular with WW2. My husband's Grandad, John Stuart Brown was a British soldier in WW2, but got captured and was kept in Danzig (now called Gdansk) as a Prisoner of War. He was kept on a farm, and fell in love with the farmer's daughter, Dora. Their love story is quite remarkable and they lived an incredible life together. In fact, their inspiring story is told in John Stuart's book, Forbidden Paths which was published in 1978.
Performing with The D Day Darlings is something very special. The most touching performance for me, was in Normandy when we visited 'Back to the Beaches' and we performed for 250 incredible veterans. You could see the emotion in the Veteran's eyes as they sang along with us. When we perform, you can sense how Vera Lynn would have felt bringing joy to the soldiers in such difficult times and it makes me feel very proud. Vera Lynn is such an inspiration.
I look forward to many more years of performing with these wonderful ladies, and honouring the amazing men and women who fought for our country in such difficult times; and of course, the men and women who still continue to do so.