Darling Amy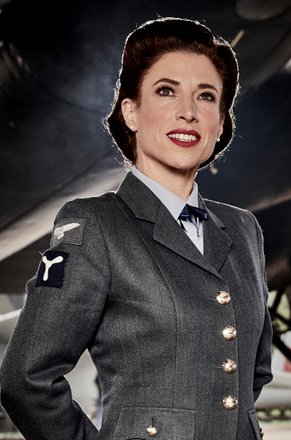 Amy hails from Cumbria and Lancashire. Her first big singing appearance was performing the winning entry of the BBC's national children's songwriting competition 'A Song for Christmas' when she was 10 years old.
From there, her passion for singing and performing grew and grew and after obtaining a drama degree from Aberystwyth University, Amy has gone on to perform in plays, on television and musical theatre across the UK and beyond. She recently performed as Mrs Wilkinson over 60 times on the inaugural UK tour of 'Billy Elliot'.
Amy joined the D-Day Darlings in 2015 and has loved every minute, especially performing for the Chelsea Pensioners, for all the veterans and in the wonderful aircraft museums amongst the vintage wartime planes.
Both Amy's grandfathers were in the RAF during WW2. Albert Worth (from Castleford, Yorkshire) was a sergeant in the Bomb Disposal Unit performing duties all over Europe during and after the war and George Bennet (from Llanelli in South Wales) was a gunner on board the planes.
George was posted to Italy towards the end of the war where he met and fell in love with Amy's grandmother, Eleanora Concato. They were married by the forces chaplain in Rome and Eleanora wore a wedding dress made of parachute silk given to her by George's regiment!
Music has always been a passion and a big part of Amy's life. Amongst many different styles of music, she has performed a great deal of Jazz from the war-time era and loves to sing 'a cappella' harmonies. A favourite memory for Amy was when her grandfather, George Bennet, told her he actually saw 'The Andrews Sisters' performing live for the troops during the war.
Amy dearly wishes her grandparents were here as she knows they would be so proud to hear her singing these wonderful songs today.